Prize
Odds 1 In
Prizes Remaining

Overall Odds: 1 in 2.56
TOP PRIZE DETAILS: The $1,000,000 prize will be paid as an annuity in 30 annual payments, OR the winner may select a $500,000 cash option paid in one lump sum.
Scratchers FAQs
How long do I have to claim a prize?
For Scratchers tickets, you have 180 days from the end of the game to claim your prize. Once a ticket has expired, it cannot be redeemed even if it is a winner.
Featured Winner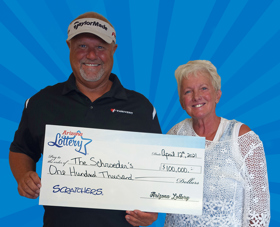 The Schroeders Won
$100K
$100,000
View All Winners