How to Play
Instant Tab games are fun and easy to play. Simply open the perforated window tabs on the back of the ticket to reveal the play symbols. If you match three identical symbols in a winning combination, you win the corresponding prize for that symbol as shown on the ticket front. Prizes must be claimed at the same business from which the game was purchased and by the close of business on the same day of purchase.
Where to Play
Instant Tab games are available at bars, restaurants, and charitable organizations throughout the state, like the Veterans of Foreign Wars, American Legion, Elks Lodge, Moose Lodge, and Fraternal Order of Eagles. Click on the link to see a list of licensed retail locations.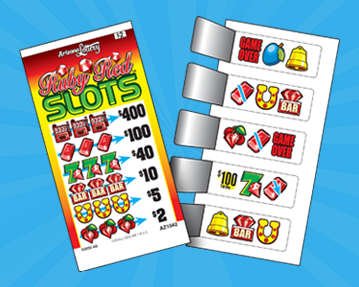 FAQs
What are Instant Tab games?
Instant Tab games, also known as pull tabs, snappers, break-open tickets, jar cards, or punch boards, have been available in many states for more than 30 years. Players open the paper tabs to determine if it is a winning ticket.
Can I redeem my Instant Tab winnings at any Arizona Lottery retailer?
No. Prizes won playing Instant Tab games may only be redeemed from the place of purchase on the day of purchase.
When did the Arizona Lottery start selling Instant Tab games?
Instant Tab games went on sale at charitable retailers in 2011 and were made available for sale at other locations, such as bars and restaurants, in 2016.
What is the difference between charitable and other Instant Tab retailers?
There are slight variations in the games and price points offered between the two types of retailers. Charitable instant tab retailers earn a higher commission than other Instant Tab retailers.
How do sales from Instant Tabs benefit the state?
Proceeds from Instant Tab game sales go to programs and organizations that help Arizona's communities in four key areas: higher education, health and human services, the environment, and economic and business development.

Annually, the Arizona Lottery contributes $900,000 to the Internet Crimes Against Children Enforcement Fund and $100,000 to the Victims' Rights Enforcement Fund. Proceeds from the sales of Instant Tab games in age-restricted retailers are used to support these funds.

Commissions from charitable Instant Tab sales help fund the ongoing operations of charitable organizations across Arizona. These earnings provide vital support for programs which assist other nonprofits.