The Pick Winning Numbers
LAST 180 DAYS
View the winning numbers and the number of prizes distributed for each drawing in the last 180 days in the chart below.
Winning tickets purchased within this period are valid and prizes can still be redeemed.
Prize amounts update next day.
Featured Winner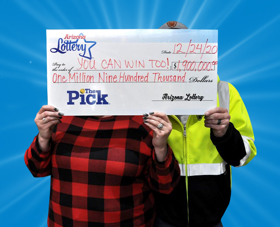 You Can Win Too! Won
$1M
$1,900,000
Where: Surprise
When: 12/24/2020
View All Winners
Prizes and How to Win
Matching Numbers

The Pick Prizes

Odds
Jackpot*
1 in 7,059,052
$2,000
1 in 30,961
$50
1 in 669
$3
1 in 42

The overall odds of winning a cash prize are approximately 1 in 39.
*If other tickets also match all six numbers, the prize pool will be split into equal amounts among all winning tickets.
**Overall Odds of winning a prize with EXTRA! are 1 in 3.8
***Sales stop on draw nights at 6:59 PM Arizona time.
****The Arizona State Lottery official audited records of the numbers that were drawn will determine the winner rather than the numbers televised or published on the web. Drawing prizes must be claimed within 180 days of the drawing.
All sales are final. Drawing game tickets cannot be voided.