Years of consistent play yield a nine-figure Arizona Lottery win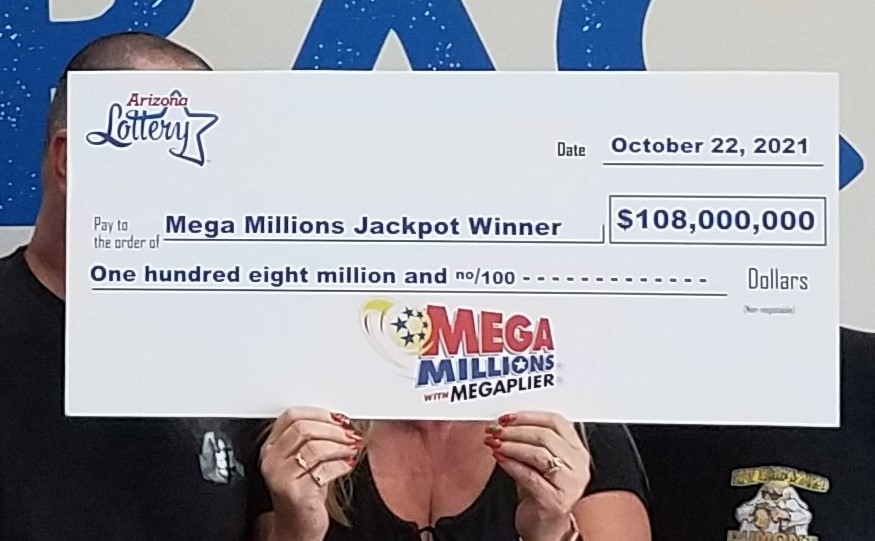 PHOENIX (October 27, 2021) – Three players are taking home $75.2 million (before taxes), choosing the lump-sum cash option for their jackpot-winning Mega Millions ticket. 
The $108 million winning ticket was sold at the Desert Martini bar, located at 2120 McCulloch Boulevard, North Lake Havasu City, Arizona, on October 20th. The trio is choosing to remain permanently anonymous, under a state law enacted in 2019.
The multi-draw ticket matched all six numbers in the Friday, October 22 drawing, winning only the second jackpot awarded in Arizona in the Mega Millions' history! Desert Martini, our valued retail partner, is also receiving a $50,000 sales incentive from the Arizona Lottery for selling the winning ticket.
"We are so excited to see our second-ever Mega Millions jackpot claimed.," said Gregg Edgar, Arizona Lottery Executive Director. "The Arizona Lottery is all about doing more good in our state and making dreams come true for our players. I'm sure this amazing prize will go a long way toward helping make these winners' dreams a reality and inspiring many other Arizonans to dream bigger while doing good for Arizona."
Though this win is enormous, it is just one of thousands of Arizona Lottery wins that are paid out to our players every week with our instant and draw games, our second chance Players Club (available for free on the iTunes® App Store and Google Play™) promotions, and our regular Facebook livestreams where no purchase is necessary to tune in and win!
It's also important to remember that these players are not the only winners of this life-changing prize, as every Arizona Lottery ticket sold helps fund more than a dozen vital programs across the state, including health, housing and job assistance for the homeless; support for Arizona's foster children; funding to nurture and grow our state's economy in a pandemic-challenged environment; and monies to augment efforts to preserve and protect Arizona's iconic wildlife and habitats.
Arizona Lottery tickets are available at over 3,000 retail locations across the state. Players have 180 days to redeem their winning tickets and must sign the back of their winning tickets to ensure that no one else can claim their prize. Winners should consult with a financial advisor before claiming their prize.